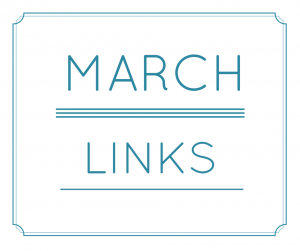 As March draws to a close, I've picked out some of the best links from the world of blogs, content and social media.
Make yourself a cuppa and stick your feet up with this lot.
On the Site
First things first, here's a quick round-up of blogs on the site this month:
How Often? – One of my most FAQs is "How often should I post?" Here's your answer.
5 WordPress Plugins Your Site Needs – Running your business site on WordPress? I recommed 5 of the best plugins to help you on your way.
Email Marketing Basics – A friendly email marketing 101. What else do you want to know? Shoot me an email with your questions for a follow-up post.
Business
A great blog from Sarah Von Bargen on What to do when you feel 'should-y' about your business.
On The Awl: The Concessionist doles out some tough love to a reader who says, I Hate Myself Because I Don't Work For BuzzFeed. To lose perspective to this degree is a terrifying notion – and a stark reminder that today, there are very few 'second jobs' in media.
I've really enjoyed two recent episodes of the What's Your Story podcast with Meighan O'Toole: the first with with Victoria Smith of sfgirlbybay, and the second with Christina Loff of Creative Live.
Speaking of podcasts, Being Boss is also growing, with the addition of weekly Minisodes. Worth a listen.
Blogs & Social
Austin Kleon on the 'So What?' test. A good way to decide what to share – and what not to share.
Some quick and easy tips for your Outreach Strategy from Amy at Savvy Sexy Social.
How to Set Goals for Your Content and Weave Them into What You Create – from Copyblogger.
A curveball from Sarah Morgan on Evolve and Succeed: Why Great Content And Social Media Are NOT The Key To Growing Your Audience.

 ––
What are some of the most useful posts you've read this month? Shoot me a link on Twitter @robotnic.
Fancy receiving a free monthly newsletter from nicolabalkind.com? Sign up here.