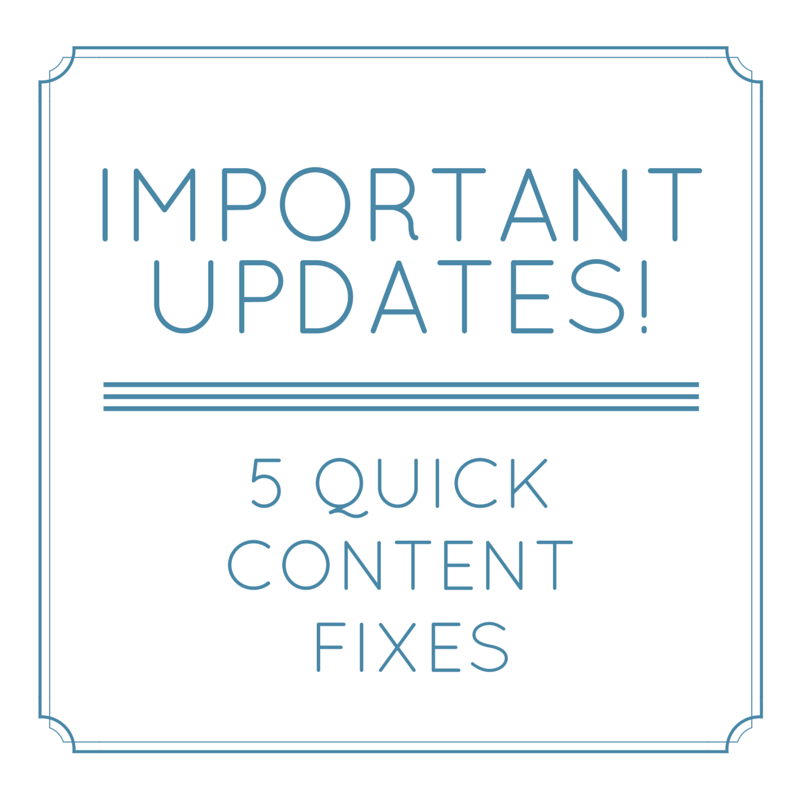 Today's all about IMPORTANT UPDATES!
Not around these parts, but on YOUR website.
Keeping a consistent web presence involves quite a lot of maintenance. Entropy is inevitable, and if you're not vigilant, you might fall into its trap.
You might figure, so what? Everyone's doorstep gets a little messy. But how do you know what you're missing out on if you haven't checked that your doorbell works lately?
It's easy to fall behind and let things get fusty online – so here are some super simple tips for keeping all of your information in order. It'll make it easier for people to get to know you, contact you, and come a-knocking with some amazing opportunities.
So here goes. Here are 5 super simple IMPORTANT UPDATES you can make to your site this week.
5 Quick Content Fixes
1. Your Name!
Yes, really! Make sure your name is listed on your website – somewhere, anywhere, but especially on your About Me and/or your Contact page.
Many of us get so caught up in the process of writing – often under a moniker or username – that we forget to ever print our name on our website. Honestly, I've come across a lot of blogs in my time which have great names, big followings, and no mention of who they are (except "I").
2. Your Contact Information!
You wouldn't believe how many prominent bloggers, YouTubers, even journalists don't have their email address listed on their website!
You can include your preferred mode of contact by mentioning this in other language on your website – at the end of blog posts, for example.
3. Check Your Social Media Links!
If you're not already linking to your social media presences, now is the time to add some links and/or social buttons.
Make sure that your buttons link to the correct pages. Lots of prefab buttons can be out-of-date, run weird scripts, or otherwise divert your audience.
Your links should also ideally open in a new window or tab. Don't lose your audience by allowing them to navigate away from your website and wander off!
4. And the Rest of Your Links!
This is a bigger task, but you can get some help. For checking that the links on your website work, I recommend using the Broken Link Checker plug-in for WordPress. Here's more info on why I recommend it.
5. Give Your Pages a Once-Over!
If it's been a long time since you navigated around your own website, there might be promises you've left unfulfilled.
You're not the only one – we all start projects that we don't continue, or state dates for delivery that we haven't met. While writing this, I noticed that my homepage still stated that I was booking new projects from July – that was last month!
Static web pages can quickly become the dusty nooks and crannies of your website, so give them a once-over and make sure that they're stating who you are, what you're doing, and how you can help them.
Your Turn
A big thanks to Steven Ray Morris for suggesting this topic! Got any other suggestions for quick content fixes? Drop them in a comment below or shoot me an email. (See what I did there? See #2.)
If you need a hand with updating your website, I can help with that too. As my homepage now states, I'm currently booking projects from Autumn onwards.