We've talked about how important it is to plan your content and schedule your content, but we haven't talked a lot about how to best to do that.
If, like me, you manage a blog and multiple social media accounts, you need a good tool for scheduling posts and linking to blog updates.
I've cycled through a number of editorial calendars and social media schedulers, and the one I've stuck with is CoSchedule.

CoSchedule is a drag-and-drop editorial calendar for WordPress that puts your blog posts and social media messages on the same schedule.
Quite the revelation, right? Where I used to get lost somewhere between the publish page and Facebook or Hootsuite or Buffer, now I have things all in one place. I've even gotten pretty good at remembering to repost content a day, a week, and a month after it's first published.
Here are some points I like about CoSchedule.
1. Drag & Drop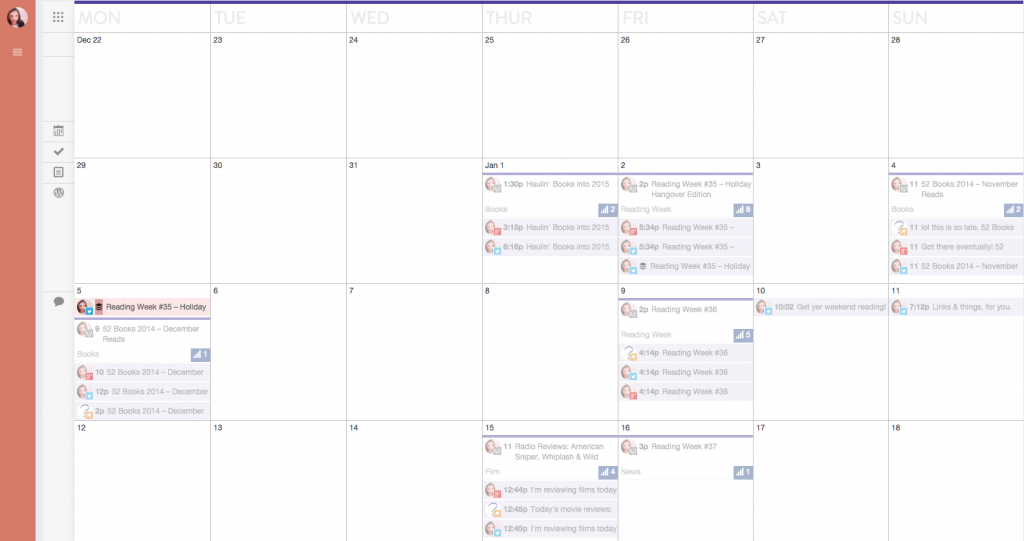 On this website, I have a set content schedule. But over on my personal blog, things tend to move around a bit.
The drag and drop function in the calendar is really useful for looser content plans, allowing you to move content around while maintaining a view of the month at large.
I've also made the mistake of scheduling multiple social media updates about different posts too close together. This changes all of that.
You can also integrate your CoSchedule social media updates into Buffer to ensure your updates go out at the best times for your and your audience's schedule.
2. Automated Social Publishing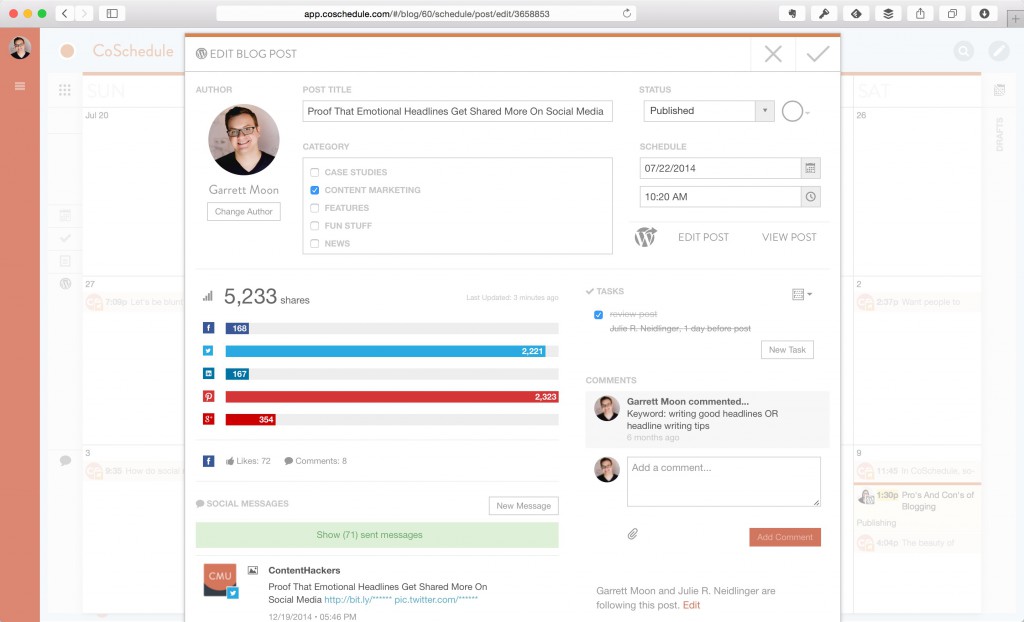 CoSchedule is only $10 per month – which shakes out at just under £7 per month here in the UK – and it integrates with WordPress, Twitter, Facebook, LinkedIn, Buffer, and Google+ Pages.
You can access an overview of each post directly in the editorial calendar. The above is an example from CoSchedule. As you'll see, there are stats for each channel it's been shared to, and authors can leave comments for themselves or other team members.
All you do is access the post in the calendar, or in the post edit page, then click on the "Promote your post" button, it flags up options for each account.
Here's how it looks on my accounts: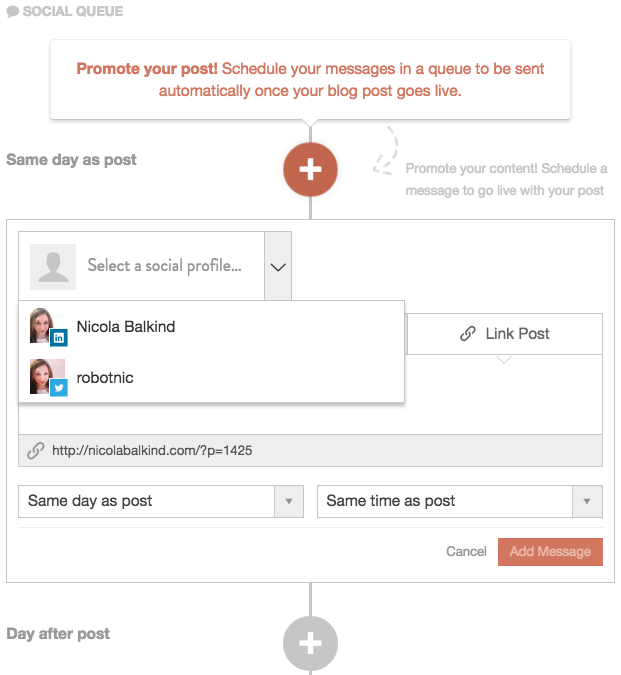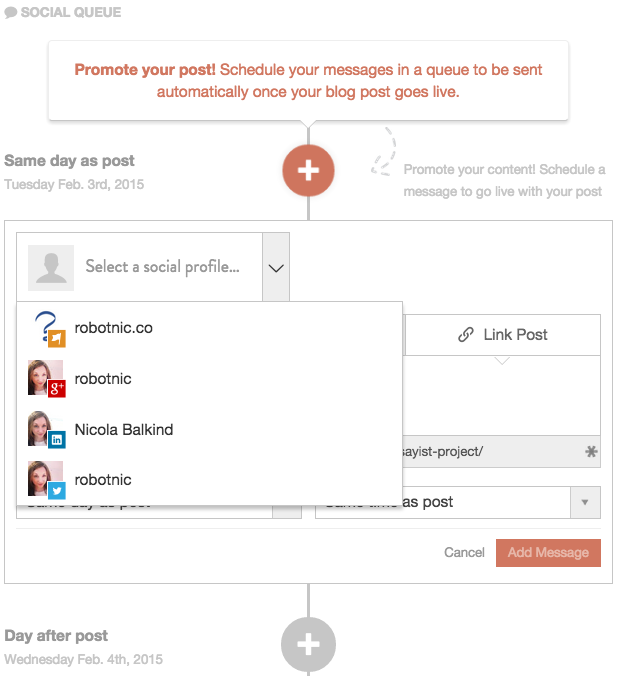 Usually, I post from this blog to my Twitter and LinkedIn page; and from my personal blog to my Twitter, Facebook, and Google+ pages.
As you'll see in the image above, the new scheduler has a waterfall style so you can see the progression of posts at a glance. This makes it really easy to set multiple updates at the frequency that best fits your chosen platforms.
3. Time Saving & Efficiency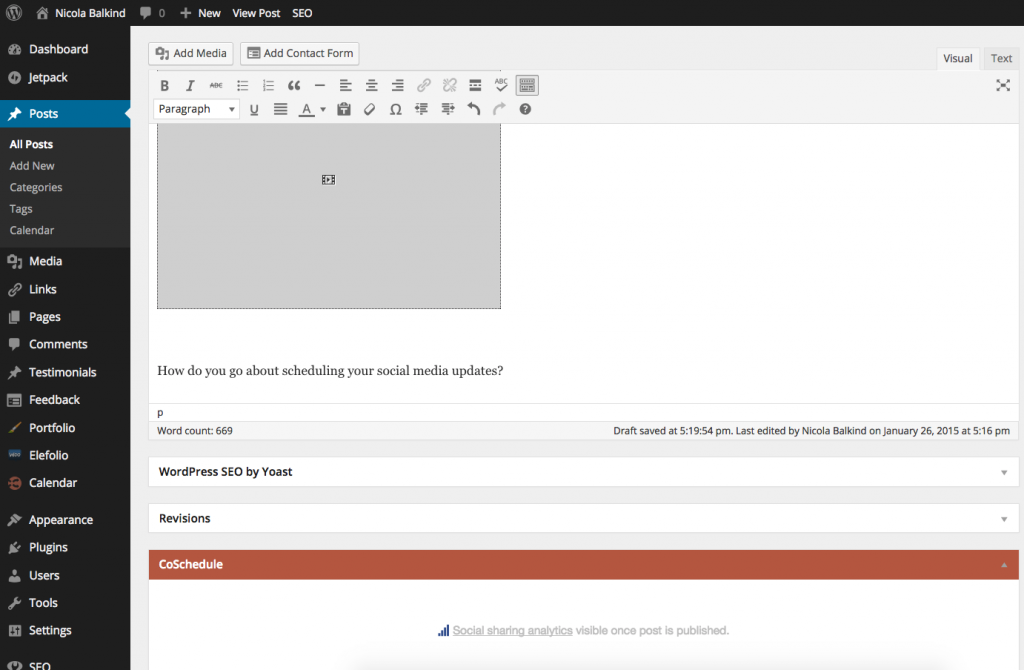 This is where the images get a bit Inception-y… but here's what CoSchedule looks like in WordPress. Notice the orange bar right below the blog post editing box, and the Calendar plugin in the sidebar menu.
It's really easy to use and sits both in the WordPress sidebar and in the edit page for each individual post. This makes it really easy to schedule all of your social media updates directly from the blog post.
While I was reluctant to pay for any software for some time, this more than pays for itself in time efficiency. It's made a massive difference for me – both by keeping me from getting lost in procrastination between blog and Buffer, and to save time where I'd usually go back to a post after it's finished to post or repost it to social.
Being able to schedule social updates as you create the post means you can schedule updates below the main text, even before the draft blog post is ready to go.
You can also use the same CoSchedule account for multiple blogs, which saves a lot of signing in and out. *prayer emoji*
Convinced?
I wouldn't recommend this product if I didn't think it was worth it.
In fact, Iv'e integrated it into 3 separate blogs that I manage and it's saving me all kinds of time and effort.
The team are also really helpful if you have any issues.
To sign up for CoSchedule, go ahead and use my affiliate link so they know I sent you!
 ––
Find more info in this video from CoSchedule:
––
How do you go about scheduling your social media updates?