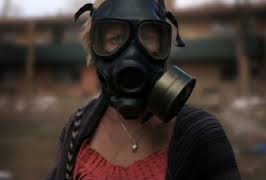 After a long year on the festival circuit, Gareth Edwards is set to release Monsters on screens nationwide. Nicola Balkind caught up with him to discuss first-time filmmaking and the long road to cinematic release
Monsters director Gareth Edwards returned to Scotland last week for a series of special previews of his promising new feature. Monsters had its European premiere here at Edinburgh International Film Festival in June, and Edwards has been on the road since March: "If, a year ago, I had written down a wish list of things that could happen, pretty much all of them have happened. It has been incredible."
EIFF prides itself on its rich programme of films from first- and second-time filmmakers. As well as being one of the debut directors at this year's Festival, Edwards has been one of the most celebrated. As well as being a Trailblazer, he won the Moët New Directors Award here in June. At Edinburgh, Gareth says, "Everyone knows how hard it is to make a film and it's kind of like a little badge of honour."
Like many more directors at this year's Festival, including Celine Danhier (Blank City) and Arvin Chen (Au Revoir Taipei), he expressed a desire to inspire others to make their own films. His advice to aspiring filmmakers? "Don't be someone who is going to make a film. Be someone who is making a film. It's so easy to put things off, I did for 10 years. Just pick up a camera. That's what it comes down to: just pick up a camera an go make a film."
"Nothing would make me feel better than one day seeing a great movie by a new filmmaker and they say, "You know what my favourite thing was? Your behind the scenes documentary on the Monsters DVD". To inspire people like that… I think that's the story I'd like to hear the most when I'm old. How it made them pick up a camera."
And picking up a camera is exactly what he did. Taking a crew of four (himself, two actors, and an editor,) on an arduous shoot through Mexico, Belize, and Guatemala was a huge, but ultimately lucrative, challenge. "If it had been my own money, I would have called it quits at some point and had a break – then, inevitably, never returned to it. But I couldn't afford to ruin it, I had to deliver what I had promised."
The thriller takes place approximately 5 years after a failed NASA experiment led to the outbreak of alien species in Central America. As its two protagonists Samantha and Andrew attempt to escape the quarantine zone to safety, the road movie unfurls in a style Edwards facetiously refers to as something of a, "Brief Encounters of the Third Kind".
The long road to distribution is finally about to come to an end as Monsters opens in UK screens on Friday, 3 December.
Published at Edinburgh International Film Festival.
My EIFF Staff Profile Page.