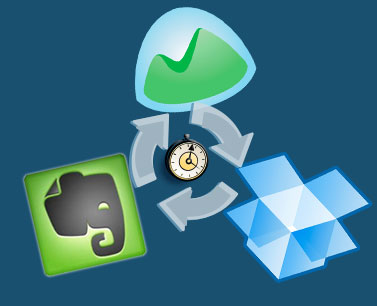 How about some recommendations?
Today I'm sharing some of my favourite tools for file sharing and collaboration that I use on freelance projects with clients and to manage my own business.
Project Management
Being my own personal assistant is one thing, but managing a business and several projects at once is quite another.
That's why I'm constantly developing my use of project management tools to find the best fit for me.
My top tip? It's all about customising the tools you use to your personal need. Here's how I do that.
Basecamp
Basecamp is a hugely popular project management tool, up there with the likes of Asana and Evernote (which I use for a slightly different purpose – as you'll see below).
The platform is primarily used by teams to co-ordinate their efforts, and its main features include to-do lists, an events calendar, and text document sharing.
I do use Basecamp for some shared projects, but for the most part I use Basecamp Personal to track my business activity.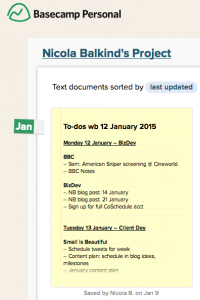 Basecamp is where I begin a new text document each week with my goals for the week and an overview of tasks to be completed, day by day. This acts as an archive, is an easy place to move tasks around and refer to what needs done when, and it's easier to edit and move things around on than paper and ink.

Basecamp is also the home of my tickable to-do lists, a satisfying little option that doesn't require an extra to-do list app. These also allow you to set who's responsible and a deadline date. One day before the deadline, you get an email reminder.
Now that Basecamp is a stand-alone company, they're also upping their app game. The latest iterations of the iPhone and iPad app allow you to add and check off to-dos and view those files. It's also handy for leaving yourself some comments for later.
For time-tracking on my freelance projects, lately I've been using Toggl.
After months of trying to master the Pomodoro technique, I found that I work best with time to warm up and that after 25 minutes were over I was just hitting my stride.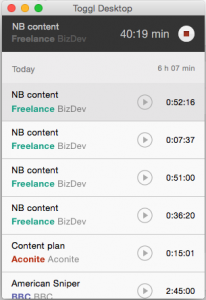 Toggl counts up, rather than down, and allows you to track your time based on which project and task you're in the process of completing. You hit start and the timer goes, stop and it stops. Then you get a lovely wee digest at the end of the week which details how much time you spent on each task.
It keeps me on track, stops me from over- or under-servicing clients, and helps me to understand just how long particular tasks take, rather than going by a hunch.
Also, once that timer starts clicking away I don't want it to show what a time-waster I really am.
Note-taking
I use pen and paper a lot… but I also want quick access between my phone and computer.
Here's how I keep everything in one digital place.
Apple Notes

If it ain't broke, don't fix it! I use Apple products across the board, so the Notes app is really useful for jotting down thoughts and ideas.
All you have to do is log into your iCloud account and each of your devices will sync up – so if I'm on my iPad and book a cinema ticket, I can paste the detail into Notes and pick it up on my phone once at the cinema.
It's a really quick to sync and simple to use – definitely my go-to for brief notes.
Evernote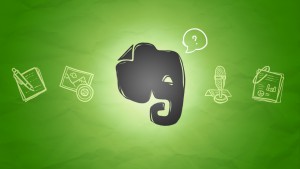 Evernote is one of the internet's most popular note-taking apps, and it's hugely customisable depending on how you like to use it.
My use of Notes could theoretically transfer to Evernote, but I find that fiddling between notebooks within the Evernote app, and the size of the app itself, can take just a bit too long to be efficient.
Personally, I use Evernote (Premium) to take longer, more detailed notes or work on documents on the go. I have notebooks set up for various research projects where I brain-dump or save links to articles and the odd to-do list.
My main use of Evernote, though, is as a repository for Reading Week – a feature on my personal blog. I set up a recipe on IFTTT (If This Then That) so that whenever I favourite an article in my Pocket queue (more on Pocket here), it automatically syncs the link to my Reading Week notebook. It makes the blog writing process much easier and quicker and gives me fast access to the links I want to use.
Do you have a creative use of Evernote? Tweet me your suggestions!
File Sharing
As a remote worker, file sharing is a big part of my work with clients.
My choices here are the obvious ones – but in case you've a choice to make, I'll let you know why they work for me.
Dropbox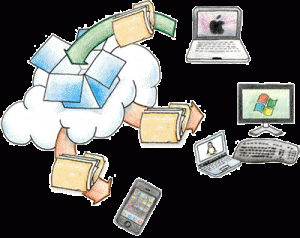 Dropbox is a cloud-based storage option which allows you to create folders and sync files to the cloud.
The desktop app sits in your computer like a regular folder, and keeps updated with the latest versions of files that have been shared with you. It's an excellent option for anyone who switches between computers or often has to access documents from outside the office.
I like to share a Dropbox folder with my clients in which we store any shared files (duh!) and reference materials. For example, strategy documents and content planners are often shared by email, but I also get them uploaded into a shared Dropbox folder for easy access from anyone in the team. It cuts down on that horrid inbox search for that file you can't remember the name of.
Google Docs – using RocketDocs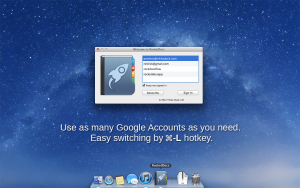 No news here: Google Docs / Google Drive is the biggest file-sharing collaboration tool around.
However, if you're anything like me and weren't prepared for the one-account-does-all approach that Google decided to take, you'll know my problem with the service.
The thing is, my default login runs my Google+, YouTube, and formerly my blog accounts. This means I have to switch between accounts, which is fine for email but a nightmare for using services like Google Drive.
Fortunately, there's a Mac solution for this problem: an app called RocketDocs. It costs next-to-nothing (usually around £7, currently £2.29), it runs on your desktop, and it operates as a separate application so you won't get lost in your open tabs. *prayer emoji*.
 ––
What are your favourite collaboration tools? Tweet me @robotnic or shoot me an email with your thoughts and recommendations.