Podcatching may sound like some sort of faddish adventure sport, like Geocaching. Worry not – it just describes how you choose to download and listen to podcasts.
Some of you may play podcasts directly on the web page where they are posted, you might find them on iTunes and listen on the Apple Podcasts app, or you might use the platform where they are published, for example on SoundCloud.
Or, of course, I might be talking gibberish to you.
Basically, there are an array of apps out there that you can use to listen to podcasts. Since podcasts were born on a mobile platform – the iPod – it's appropriate that the best way to listen is still on a mobile device. There are a range of available apps, from the default Apple Podcasts app (formerly rolled into iTunes), to app-cum-discovery platform Stitcher, to proprietary apps like This American Life's that play only one or a collection of specific podcasts.
If you've grown sick of your current podcatcher, or just want to start with a cleaner, easier experience, I have a recommendation for you. It's called Overcast.
Overcast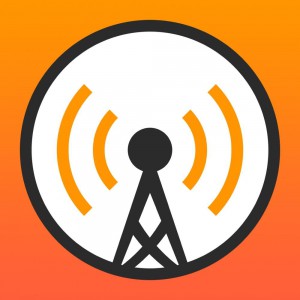 Overcast is a minimalist podcast listening app. It's really simple and easy to use, with all the features you could need on a clean interface.
Let's take a look at a few key items:
Subscribing to podcasts
If you're new to podcasts, it's likely that you won't know where to start, or where to go after you've found one or two that you like. Overcast uses the iTunes database, so searching is easy.
Overcast also organises popular podcasts into categories which you can browse and select from.
You can also link it up with your Twitter account and it'll find podcasts that your friends have shared and recommended.
The interface on Overcast lists all your subscriptions in a list with the icon and the podcast name. If you have current episodes, they'll appear at the top; if you've listened to everything you've downloaded, they drop to the bottom of the list.
Listening
The app also has some great listening features (which you can unlock with a premium account for only ~$5/£3). On quiet podcasts, you can boost the volume, and you can also manipulate the speed.
My favourite feature on the app is smart speed, which cuts down silences to speed up the podcast, but only in dead space. The speed will depend on the presenter, but it keeps things moving a little faster without making it difficult to listen to.
If a specific podcast tends to be quiet, or slow, you can select these effects for every episode of that podcast without having to fiddle with your settings every time.
You can also choose from a few playback options, like setting a sleep timer or choosing to play the next episode when the one you're hearing ends. The back and forward buttons are also customisable so you can skip forward or back in increments of anything from 7 to 30 seconds at a time.
Sharing
As well as taking recommendations from your Twitter account, there are a few easy ways to share on Overcast.
You can recommend an episode to your audience, or use the share settings to post it to your social media accounts. If there's something you particularly want to share mid-episode, you can also share from a particular moment.
Speaking of sharing: for more ways to use Overcast, and some similar options for advanced podcast users – check out CGP Grey's Recommended Podcast Apps.
Looking for some podcasts to listen to now? Don't forget to check out my other recommendations – Top 5 Business Podcasts, and 2 New Podcasts for Microbusinesses.