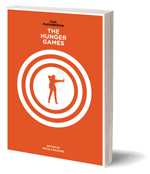 Fan Phenomena is a book series from Intellect Books that aims to decode cult subjects of popular culture.
In July 2012, I pitched the theme of The Hunger Games. In December 2012, my proposal was accepted and I was awarded editorship of the book. By December 2013, it was written and ready to go.
Fan Phenomena: The Hunger Games is published by Intellect, distributed by Intellect and University of Chicago Press. The publication date will be 15 July 2014.
An exciting dystopian fantasy thriller series, The Hunger Games began its life as a trilogy of books by Suzanne Collins, the first released in 2008. An immediate success, the first instalment had a first printing of 50,000 hardcover copies, which quickly ballooned to 200,000.

Spending one hundred consecutive weeks on the New York Times bestseller list, the book was put into development for release on the big screen. The first film, starring Academy Award–winning actress Jennifer Lawrence, broke box office records, and all of its sequels are expected to follow suit.

Fan Phenomena: The Hunger Games charts the series' success through the increasingly vocal online communities that drive the young adult book market. Essays here consider the fashion that the series has created and how the costumes, memorabilia, merchandising, and branding have become an ever bigger part of the fandom experience. Issues explored include debates over the movie stars' race and size, which tap into greater issues within the fan community and popular culture in general.

With this scholarly compendium, navigating the post apocalyptic landscape of Panem will be as effortless as Katniss Everdeen's archery and ensure that the odds will be forever in your favour.