Thursday, 27 May 2010 Written by Nicola Balkind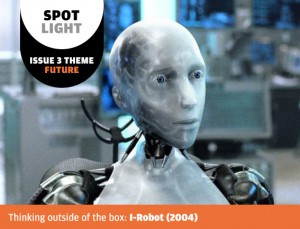 Since the dawn of cinema, filmmakers have been preoccupied with robots and their roles within the human world. From Fritz Lang's humanoid robot in Metropolis to GERTY, the companion robot in last year's Moon, our conception of robots is coloured by their human traits. Nicola Balkind looks at seven films that exemplify the anthropomorphosis of robots onscreen.
---
Metropolis (1927)
Dir. Fritz Lang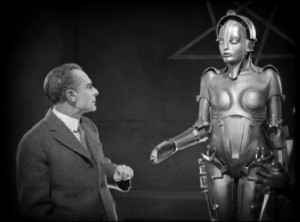 Fritz Lang's expressionist classic is set in 2026 in the fictional title city of Metropolis, a futuristic urban dystopia in which the upper class or city planners lead lavish lives as the working class live and work underground. Freder, son of the autocratic leader Joh Fredersen, sees the plight of Maria, the subterranean matriarch, and seeks her out in order to ease their plight. Meanwhile, the scientist Rotwang assists Fredersen in quashing the underground revolution by building a robot in Maria's image to mislead the masses.
The pivotal scene involves the steel-plated robot's transformation, where it becomes a perfect rendering of Maria's image. The robot is then ordered to incite the workers to revolt. The highly sexualised robot Maria is an image that is diametrically opposed to the real Maria, who is characterised primarily as a mother. The robot Maria's half-closed left eye and rigid, quick movements are associated with the fears of technology perceived as threatening and demonic.
---
Silent Running (1972)
Dir: Douglas Trumbull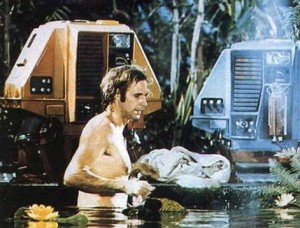 Passionate Freeman Lowell is the sole eco-warrior aboard an aborted space conservation mission. After disposing of his co-workers, Lowell befriends the onboard repair robots, and names them Huey, Dewey, and Louis. He alters their abilities to enable them to performing surgery on his injured leg, play cards and keep him company, and soon their individual personalities emerge.
Though boxy and non-android – they waddle like robotic ducks – their anthropomorphic traits are born through Lowell's reactions. His nurturing, one-ended discussions transform them from functional machines to companions, bestowing them with human traits of concern, the urge to nurture and to love. He is like a child ascribing emotions to his toys and, by becoming extensions of his personality, these robots truly think and feel.
---
Star Wars (Episode IV: A New Hope) (1977)
Dir. George Lucas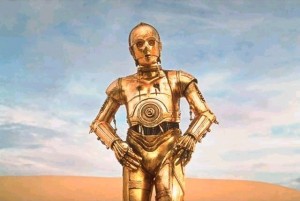 The robots of Star Wars IV: A New Hope are divided into two types: those identifiable by form and those identifiable by function. C-3PO is the Metropolis style anthropomorphic android with full lexical abilities; and R2-D2: the Huey-Dewey-and-Lewey-esque utilitarian astromech. C-3PO is all but human in appearance. When he offfers to donate his own parts to save R2-D2, his altruism further anthropomorphises him – but does he love R2-D2 as a companion, or is he programmed to further the lives of his fellow robots?
---
Artificial Intelligence: AI (2001)
Dir. Steven Spielberg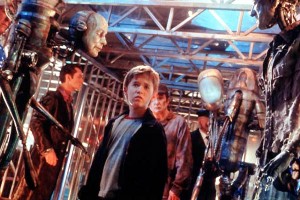 The humanoid robots of Kubrick's future, played by humans, are extensions of the human form: sleek, intelligent, skilful, and de-anthropomorphised by their lack of physical flaws. A machine (though it seems sacrilegious to call him one) is soon developed that truly replicates the physical characteristics of a child, with one solitary goal: to obtain a mother's love. David (Hayley Joel Osment) is the first genuinely convincing humanoid robot in this story and in film, the dilemma shared thus: he looks real – orga – to outsiders, but is outcast by those who know he is mechanical. Like C-3PO, David is anthropomorphised in contrast with his robotic counterparts.
Rather than physical, this anthropomorphism is achieved by amplifying his emotions and provoking empathy on a deeply personal level, making them an intrinsic part of David's character. Unblinking yet overwhelmingly sweet, David is neither fully orga nor mecha. Drifting quietly between two forms of being, he is finally granted his wish to become a real boy. Ultimately, he teaches the advanced robots of human behaviour; carrying over the true essence of humanity into a new era.
---
I, Robot (2004)
Dir. Alex Proyas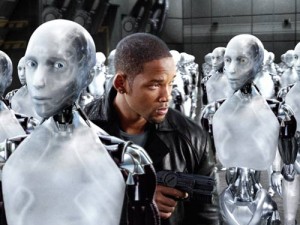 In the year 2035, humans are served by a system of worker robots. The air-tight Three Laws of Robotics prevent these robots from harming the humans whom they serve. Detective Spooner (Will Smith), however, is certain that the death of roboticist Dr. Alfred Lanning – the father of United States Robotics – was caused by these suspicious androids.
I, Robot concerns itself with the growing danger of allowing technology into the home. Compounded by eerie smiles and soft-spoken slave vocabularies, the androids of I, Robot disseminate an innocent yet foreboding presence. Every physical aspect of their humanoid appearance, nimble jointed limbs, and blank stares makes them at once unassuming and intimidating. Controlled by a central nervous system – a female-voiced machine named V.I.K.I – the set-up practically screams developing sentience.
---
Wall-E (2008)
Dir. Andrew Stanton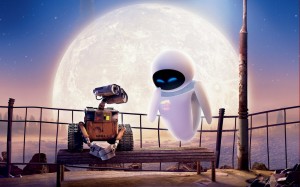 Waste Allocation Load Lifter E-Class, or Wall-E, is the last of his kind left on Earth. The curious cuboid with binocular eyes rescues and collects remnants from the human waste he diligently compacts. Sifting out the cultural gems like a futuristic panhandler, Wall-E learns of, and yearns for, the most revered human traits through the medium of film. The hand-holding protagonists of Hello, Dolly! teach him 'That is all that love's about…' and never to come home until he's kissed a girl.
Wall-E's naive demeanour recalls the tandem childlike innocence and persistent genius of silent clowns Charlie Chaplin and Buster Keaton. His charming un-worldliness contrasts sharply with the 'real' humans, who gorge themselves into a state beyond recognition. Wall-E's devotion to another anthropomorphic robot, Eve, and his willingness to return to his lonely world glows with an innocence surpassing even the most ideal vision of humanity.
---
Moon (2009)
Dir. Duncan Jones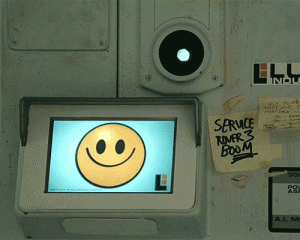 On the far side of the moon, Sam Bell (Sam Rockwell) is the sole mechanic on the LUNAR moonbase. His 3-year contract is close to expiration, and the only real-time contact he receives is from GERTY, the on-board assist robot, voiced by Kevin Spacey. GERTY is anthropomorphised only by the yellow emoticon on his tiny screen. His smooth voice is calm and reassuring, with a paternal and consistently empathetic tone.
In moments of surprise, GERTY's expressions betray falseness, making his tone seem ominous and deceptive. The robot is not omniscient, however, and can be manipulated by Sam, perhaps unable to read Sam's true intentions. By revealing the truth behind Sam's situation, GERTY redeems himself as a trustworthy companion by becoming Sam's accomplice. The lens above GERTY's 'face' hints at sentience, suggesting a connection that is beyond GERTY's programmed functions.