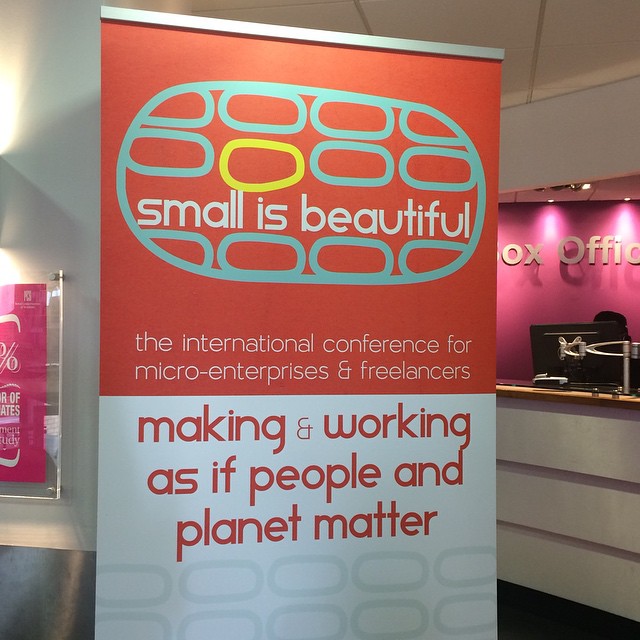 As I've mentioned before, I love working with Roanne Dods and the rest of the amazing team on Small is Beautiful – an annual conference for microbusinesses and freelancers. I consider myself a bit of both.
This year's event took place on 17 & 18 June, here in Glasgow. I was live-tweeting the event – a process I really enjoy. There was so much to keep up with, and after a while it became a process of hearing great scraps of wisdom fly in through my ears and straight back out through my fingertips.
The event featured an amazing array of speakers whose talks were filled with brand new advice and valuable reminders.
Today I want to share some of the highlights of the speakers' shared wisdom – and some things that really resonated with me and my own business.
Standing out often means putting people off
As James Greig put it: "If you want to be magnetic, you must be as willing to repel as to attract."
There isn't a big committee mentality among microbusinesses, but when striking out on your own it's easy to cast too wide a net. The more you try to appeal to everyone, the more standard and boring you risk becoming.
Patricia van den Akker had another way of making the same point, saying simply: "More businesses should be a bit more like Marmite."
Are you putting off the customers who aren't right for you?
Your time is a precious resource
Leah Hutcheon gave a talk about the value of time. We talk about spending, wasting, running out of time, but as humans it's our most precious resource.
She also debunked that quote about how Beyoncé has 24 hours in a day, too. Unlike the rest of us, she has help. She probably isn't worried about getting the laundry done before tomorrow's meeting. Remember that.
You can use your fear as motivation
On Day 2, we revisited Akiko Kobayashi's Pecha Kucha talk, which she delivered at our event back in December. It's entitled Do The Talk That Scares You. My subtitle would be Apply liberally when feeling afraid. 
Her story is a stark reminder about the power fear can hold over you, and how you can choose to overcome it, one challenge at a time. And it's just beautiful.
On reading & writing
Fi Scott gave a daring talk about her experience with starting a small tech company in Scotland called Make Works. She discussed everything from securing arts and innovation funding to the pit of despair. There were tons of gems in her talk, but the one that stuck out to me most was, "When I panic, I read." I relate, but I'm just as frequently paralysed by panic.
I also took a lot of solace and inspiration from James Greig's talk on writing. He told us that writing is like time-travel – an idea I've been juggling around in my head with unending amusement. He shared advice that I often give my collaborators, and hearing it back was just as powerful: "Blogging isn't really about writing blog posts, it's about telling stories."
James also shared a great Elmore Leonard quote: "If it sounds like writing, I rewrite it." Simple, effective, and it made me return to my old habit of collecting and squirrelling away useful quotes for anytime I feel under-inspired.
Small matters
One of the biggest themes at Small is Beautiful is, unsurprisingly, the power of being small and staying small, but doing work that has a big impact.
This quote gave me great comfort:
"From little things, big things can grow." – Lucy Simpson
The greater context in which we exist as microbusinesses in a macro business world was also explored. Ruth Little gave us a visual metaphor of the capitalistic obsession with growth resulting in cancers and Godzilla-sized hamsters. Then Katherine Trebek summarised on the final day with these thoughts:
"We're overexposing our communities & our planet to the wrong sort of growth: obsessions with big, with status,and with self. [We need to] build from the bottom up, cherish the small in a world obsessed with big."
What's the best piece of advice you've received about running your business?
You can find out more about Small is Beautiful at smallisb.com – and keep an eye out for recaps and videos of all the talks coming later this year.