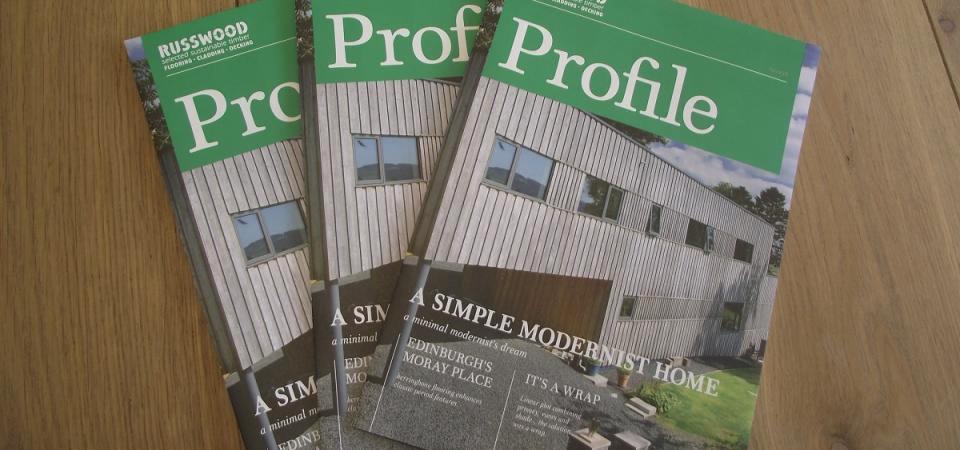 Working with Russwood
In the early stages of my freelancing career, I tended to specialise in the arts. I've always loved working in the arts because it's a great blend of business and creativity, arts, and commerce. The people I've worked with in the arts have tended to be professional yet relaxed, open to ideas, and easy to work with.
Over the past 8 months, I've had the privilege of working with Russwood – Scottish supplier of high-quality, sustainable timber flooring, cladding and decking products. While it was a new industry for me, the people had all the same great qualities, including a passion for their work, and a true sense of the value they provide.
I provided copywriting services for two issues of the Russwood Profile: a newsletter for their clients and partners including architects, designers, and contractors. I also wrote a number of Case Studies for the company's website.
These newsletter and case study features are paired with gorgeous photography and showcase Russwood products and examples of excellent architectural work that made use of these products at all different levels of scale. In these pieces, you'll see everything from private homes to local projects to nationally recognised buildings. The copy is designed to tell stories about interesting homes and projects and also giving readers a sense of the versatility of the flooring, cladding, and decking on offer, and to offer light entertainment.
Read Russwood Profile
Download Russwood Profile 18 here.