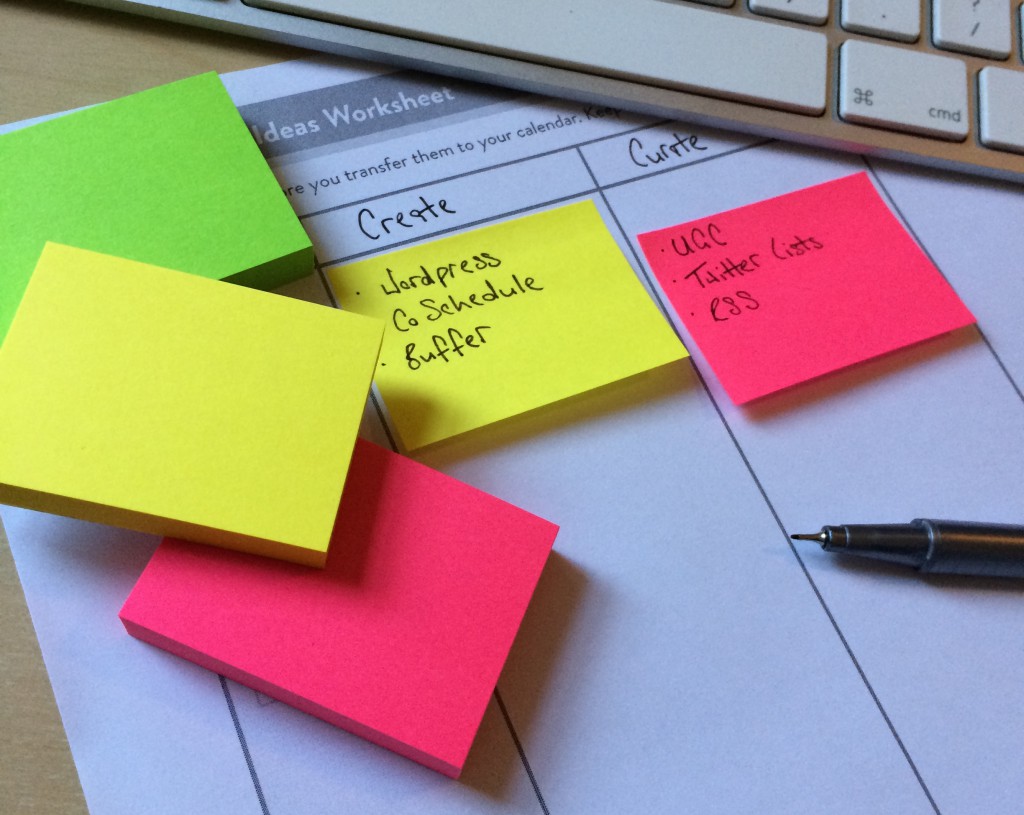 When you build a content strategy for your business, creating content is probably at the top of your list of priorities.
Planning your content cleverly means not only creating content, but also curating things that are interesting to your audience.
Curated content is the stuff that comes in-between. It's not filler, and it's not an excuse to take a break from thinking about what your audience wants to hear from you. This is the time for you to find and share creative work that demonstrates to your readers and customers that your values align with theirs.
User Generated Content
User Generated Content, or UGC, is the media that your audience shares with you. One of the major goals of social media marketing is engagement with fans and users of your product, and UGC is the top tier of that engagement.
It could be an Instagram photo geotagged to your store, a Vine they've tagged you in, or a poem that they've worked your company name into. Put it this way: it's online word of mouth.
If you're lucky, this kind of social sharing is happening organically. If not, you can kick-start the process by running a campaign that incentivises your audience to create UGC and showcases their work.
Either way, sharing UGC lends social proof, places your product in a new and appropriate context, and creates a precedent for more of your followers to share. Encourage it!
Need some inspiration? Check out these campaign ideas.
Twitter Lists
Twitter lists are one of the best and most underused features on Twitter.
By creating a list, you're curating a segment of your feed. These could be people you follow or people you don't.
One of the first things I do when I get my hands on a new client's Twitter feeds is to create a private list called 'Sources' and begin filling it with people and publications that are industry leaders, thought leaders, and the people who share useful links.
Curating lists of the top sharers in your area cuts out a lot of the hard work of curation. By choosing the top sharers, you can save time from combing through your entire feed.
Ultimately, you may be a little behind the top curators, but by finding people and sources you trust, you can take a shortcut to sharing the most relevant and potentially viral content in your area of expertise.
Tip: Twitter lists are also a great way to get found. (But only if they're useful!)
Trusted Websites
Now let's back up a little bit. While social sharing is now one of the key ways to find links to great stories, it's important to keep your eye out for the items that are flying under the radar.
Keeping a list of trusted websites, say, in your bookmarks, will give you another place to access inspiring content.
For B2B companies:
Ensure you're on top of the latest changes in your industry through market publications. While some still tend to be offline, demonstrating your expertise and thirst for the latest knowledge can be a great point of differentiation from your competitors. Start discussions around top stories and use the latest news as a jumping-off point for content creation ideas.
For B2Cs:
Are there any publications your audience particularly cares about? If you're in entertainment, the latest reviews and features from the broadsheets could come in handy. For retail, keep an eye out for what's trending in the relevant magazines.
Another way to keep these organised is through a trusty old internet friend… the RSS feed.
RSS
The trusty RSS feed is one of the internet's forgotten gems. So much so that Google closed the doors on its RSS, Google Reader, in 2012.
However the RSS – short for "Rich Site Summary" or "Really Simple Syndication", depending on whom you ask – is still one of the quickest and most powerful ways to stay informed.
I personally use Feedly, while Bloglovin' is a great option for blogs, particularly in the lifestyle space. Click here for some other leading RSS options via Six Revisions.
So, see all those websites I suggested you follow above? Whack them into your RSS reader and you'll have a goldmine of content to refer back to each time you create your content calendar.
Most RSS readers will allow you to collate and segment your favourite sources by topic, making the process even quicker.
Newsletters
Think back to those trusted sources and thought leaders you follow. Do any of them offer an email newsletter?
Some companies and individuals are getting super smart about their email missives – and they're right to. Email is still the most effective marketing platform that you can participate in.
Sign up to some of your favourite curators and see what links and resources they have to offer that you can repurpose as curated content. (And if you end up with too many, clean them out once in awhile or try out a widget like Unroll.me to keep them organised!)
Your Own Archives
Finally, another place where you can mine content from is your own archive!
It's a good idea to keep checking in to see what your top performing content looks like. Is it still relevant? If so, add it to your social media schedule! Creation is curation, my friends.
Those are all the tips I have for you today. What are your secrets for content curation? Shoot me a tweet @robotnic or email me with your thoughts.
––
Fancy receiving a free monthly newsletter from nicolabalkind.com? Sign up here.