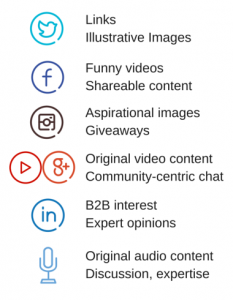 Trends change quickly and it's easy to get in a rut with your content strategy. What better time to clean up your content than in Spring?
Before we dive into defining your content mix, first it is important to understand the type of media you'll be posting and where to post it.
Today I want to help you take a look at your offering, give you a summary of trends in digital media, and suggest some ways to Spring clean your content. Next week, we'll talk about the content mix and how to organise your own.
So, let's learn about your options – or as I like to call it, the "media mix".
Media Mix
Let's talk about the media mix. We're thinking about the types of media you can post, primarily text, images, video and audio, and how they're best placed across digital platforms.
Blog Updates
If you're still blogging – and I hope you are – text and images are probably your primary tools.
Words are always well-supported by pictures. They give your reader a sense of expectation, frame what's to come, and illustrate your arguments.
Blogs are also important because they are a home for your content that you control. As we'll discuss more below, every social media platform wants to keep you on-site, so linking out to other places is becoming less effective. The trouble is that you never know when a social media site will crash, go out of style, or even disappear.
Your blog is your home, and it's an ideal place for your content to live. If you post a video to YouTube or a podcast to SoundCloud, it's easy to embed these on your home blog. It gives your audience a central place to go where they can always find your latest news and updates. Don't underestimate it!
As we've talked about previously, the same goes for email. Meet your audience where they're at, get their email address, and keep them up-to-date with links back to your best content.
Social Media Updates
Updating your social media pages used to mean posting some text and maybe a link on Twitter or Facebook. Now, things are far more visual.
Currently, two of the fastest-growing platforms are Instagram and Snapchat – both visual, image and video-based platforms with massive young audiences. Not to mention Tumblr, a hugely visual platform and community which, arguably, focuses more on sharing and curating content than creating it. Users still create here, but it tends towards remixing and repurposing extant content from elsewhere (i.e. TV, YouTube videos, new memes).
Meanwhile, Twitter added images and Facebook also favours visual content that keeps users on-site.
My point? Social media still has a strong basis in text, but visual media is taking over.
Video
Let's talk about dedicated video content. Video is one of the most rapidly-changing dynamics online these past fea years. Industry leaders have been heralding its moment for years now.
While YouTube launched 10 years ago and is credited with democratising video, it's not until the past year or so that we've seen more platforms embrace video. Twitter launched Vine and Instagram added video capabilities around the same time; meanwhile Facebook favours auto-play and Twitter has now added a 30-second video option.
These are important changes as they keep users on-site. We can now post video directly on these social platforms – we publish the content directly to social, rather than publicising links and asking our users to follow them. The imperative to leave Twitter or Facebook and follow a link to YouTube has been weakened, so it's time to start creating video content that's fit for your chosen platform or platforms.
Audio
Audio content has great potential, and some sea changes have taken place of late – not least the massive success of Serial, which exploded the audience and appetite for podcasts.
Podcasts, micropodcasts and even audio clips shared on social media are an intimate way to connect with your audience. The direct voice-to-earbud delivery is unparalleled in this regard. Audio also occupies a different space in people's lives: you're reaching them while they're out and about, walking, driving, doing daily tasks or even sleeping.
Next week we'll look into defining your content mix.
Til then, what are the trends that you've seen in digital multimedia? What are you trying to achieve in your content strategy, and do you need help in going about it?