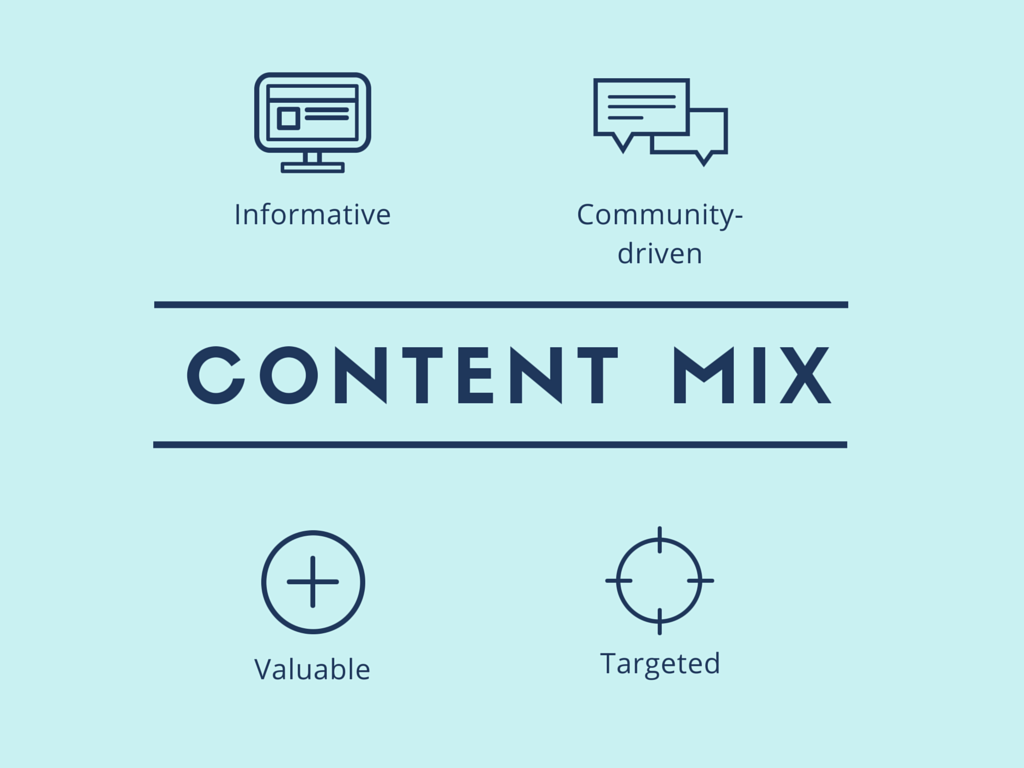 Welcome to Part II of Spring Cleaning Your Content!
Last week, we looked at the "media mix" – or the type of media you'll be posting and where to post it.
This week, we're talking about the "content mix" – how to organise your content strategy and how to keep your content consistent, varied and interesting.
Your content should be…
1. Informative
2. Valuable for your readers
3. Community-driven
4. Targeted
Informative content gives your customer a place to go to gather the information they need, whether that's how to buy your product, how to use it, or just a way to get them involved in your area of expertise. All of this content must add value to your readers' lives. In time, they'll build trust in you and, eventually, invest their money in that value.
For those who are already part of your online community, and those who wish to join it. To inform and add value to your customers' experiences, your content should be accessible and inclusive. That also means it will be targeted towards those who need it most. The more you can niche down, and the more specific you can be, the better.
Remember: online content is not just about sales: it's providing a valuable resource, or even a place for people to hang out and share their interests. Build their trust, build your brand, and sales will follow.
Defining your content mix
Now that we're familiar with what your content is seeking to accomplish, and which platforms are best suited, it's time to think about what you're posting and when.
Your content mix might include…
Company news – like a new product or an upcoming event.
Industry or customer-related news – e.g. an exciting innovation in your sector, or new technology that's exciting for your customers.
Seasonal posts, holidays and tie-ins – like Spring Cleaning (duh!), a UN day of interest, or a Fashion Week tie-in – whatever is relevant to your business and your audience.
Content partnerships – content in collaboration with industry specialists or thought leaders like bloggers. This could include partnered giveaways and other types access to someone important to your audience.
No matter the topic, make sure your content mix is relevant to your audience. You can also include lots of evergreen content that you can share time and time again.
You may emphasise one of these content types over others, but as a general rule you should talk about yourself in a minority of posts. I like to use the 80:20 rule – so roughly only one in five posts will be about my own products and services, while the rest provide things like news, relevant but fun content, or guest blogs.
Content themes
We've talked about planning your content calendar before, and these tips still apply.
As long-time readers might have realised, I have a themed content mix in place here on nicolabalkind.com. Most of my posts share knowledge and advice, with the occasional post about a relevant event or a piece of industry news. I post once per week, and these tend to fall under the following categories:
Social Media and Content – practical guides like the one you're reading, or like this post.
Microbusiness Interest – sharing resources that have helped me, or posting about topics around small businesses.
Recommendations – like tools, apps, and processes.
Notebook or Links posts – sharing the best industry-related posts I've read each month.
As I hinted above, the goal is to create a healthy mix of content that provides value, teaches your audience something new, and shares what you're doing without boring them.
For more tips on varied content on social media, take a look at my tips for content curation.
Your turn
How do you keep your content varied and interesting for your readers? I'd love to hear your plans in the comments, or you can email me or tweet me anytime @robotnic.